General Electric GG-1s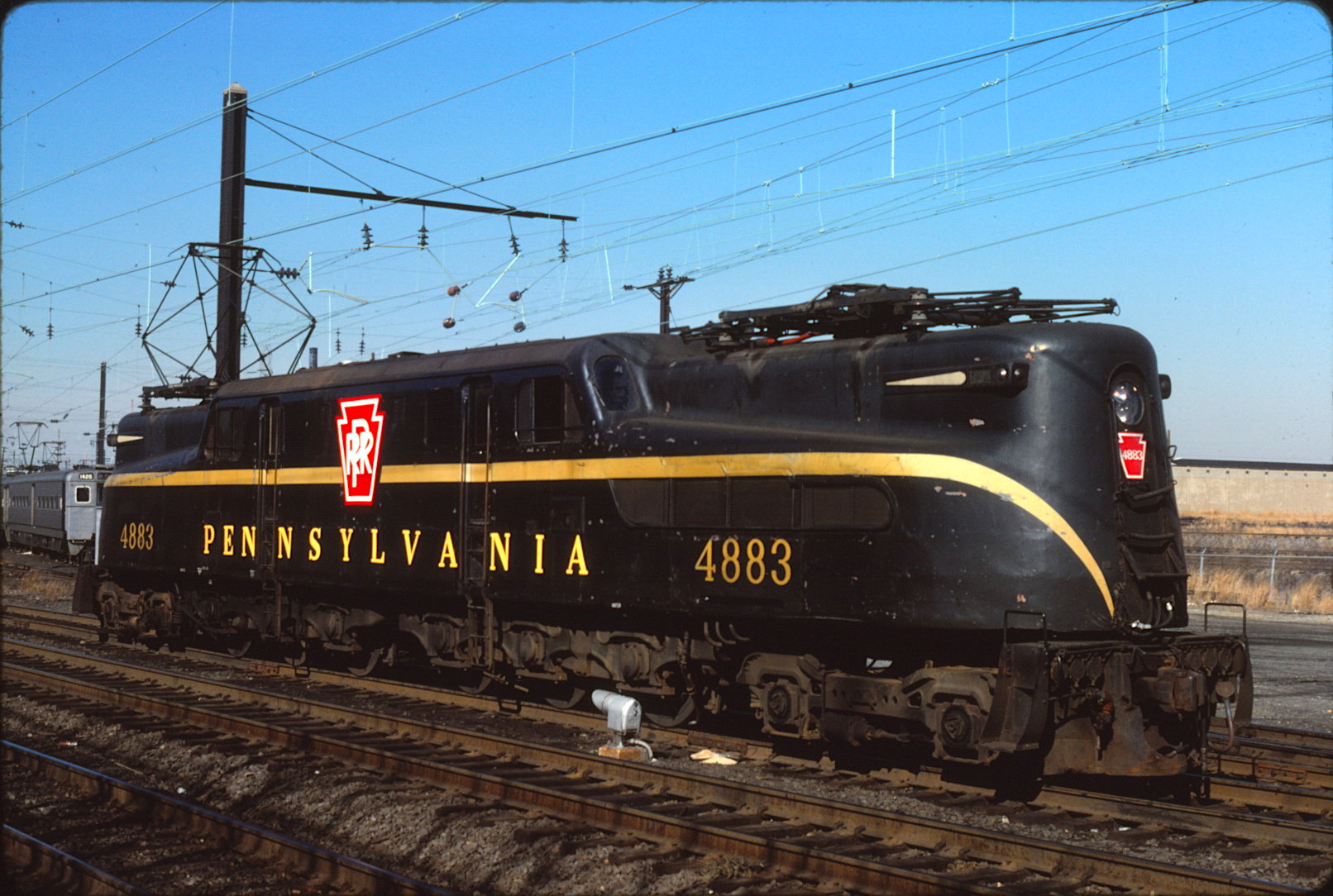 xxx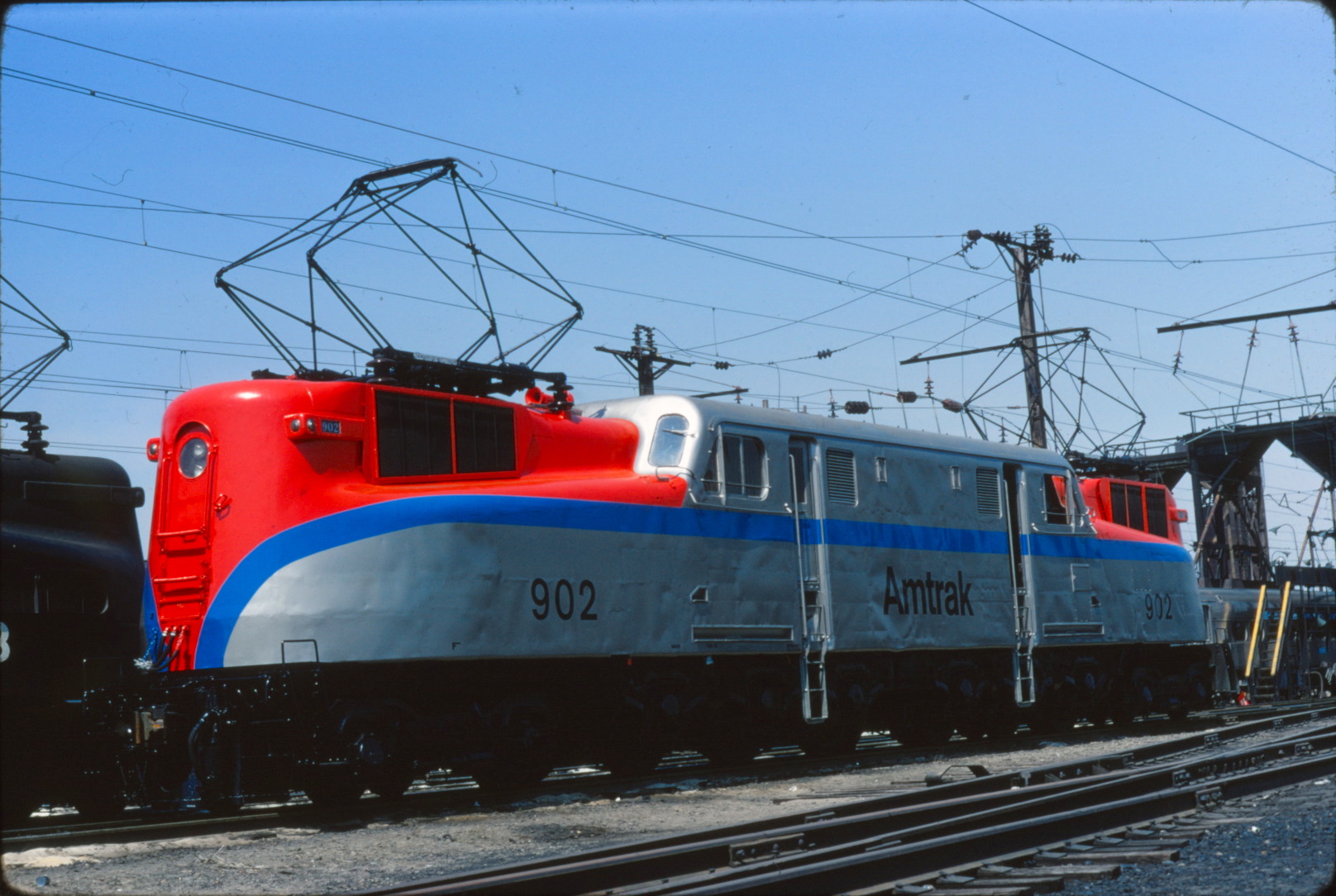 PRR's early electric locomotives (pre-1934) were plain-looking boxes on wheels that drew power from overhead wire. They were also in stark contrast to the highly stylized new passenger equipment the railroad was purchasing for name trains. The GG-1 proved to be the ideal solution. The 8000-hp machines were stylish and provided the power to speed travelers to their destinations. The carbody with its center cab was bold looking and afforded engine crew added safety.

Photographers:
Pennsylvania #4883 at South Amboy, NJ on 14 February 1981 --- John C. Benson
Amtrak #902 at Washington, DC on 1 April 1971 --- R. Craig
General Electric "Little Joe"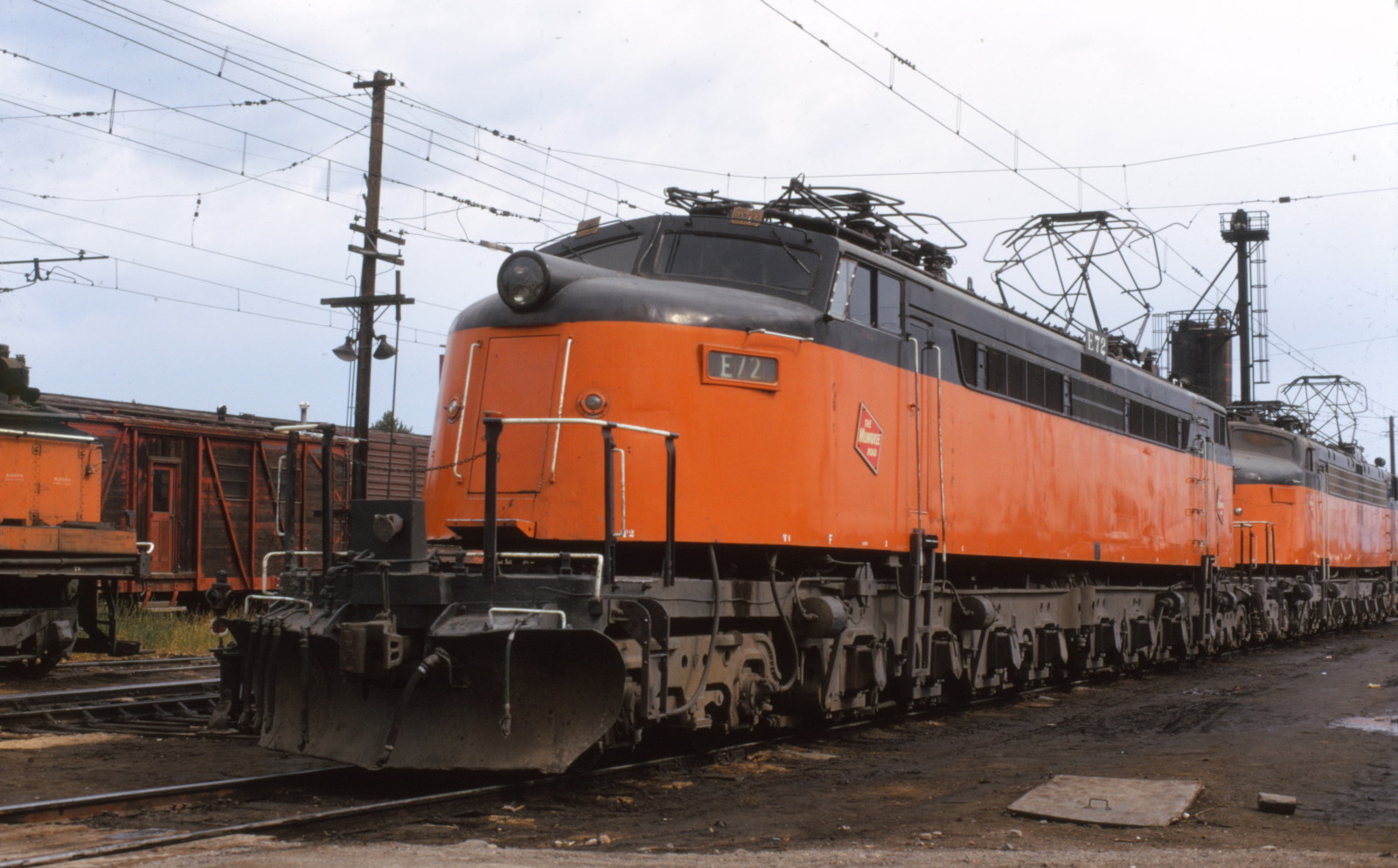 xxx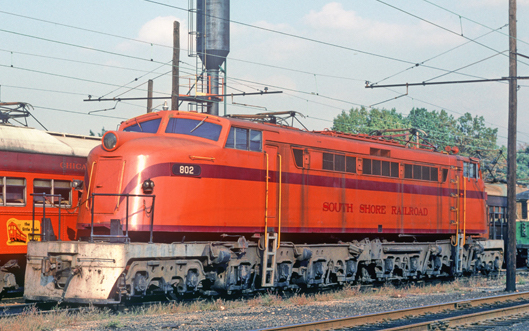 Cold-War politics during the early 1950s prevented the purchase of twelve GE-built electric motors by Joseph Stahlin's Russia, hence the nickname "Little Joes. Consequently, nine of the 2-D+D-2 electrics were sold to the Milwaukee Road (#E21, E22 and E71-E6) and three to the South Shore (#801 to 803).

Photographers:
Great Northern #E72 at Deer Lodge, MT on 6 July 1972 --- Tom Chenoweth
CSS&SB #802 at Michigan City, IN on 10 October 1976 --- Dick Neumiller / Bon French collection
Baldwin W-1 & Y-1a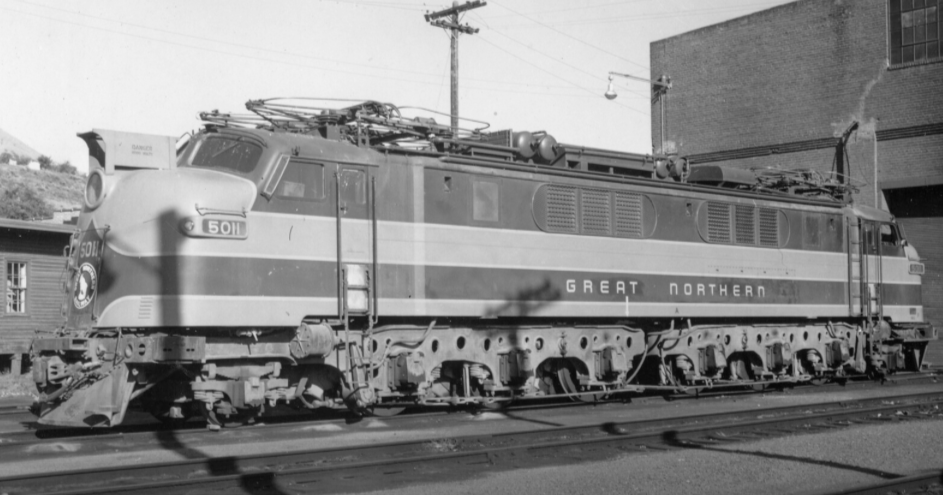 xxx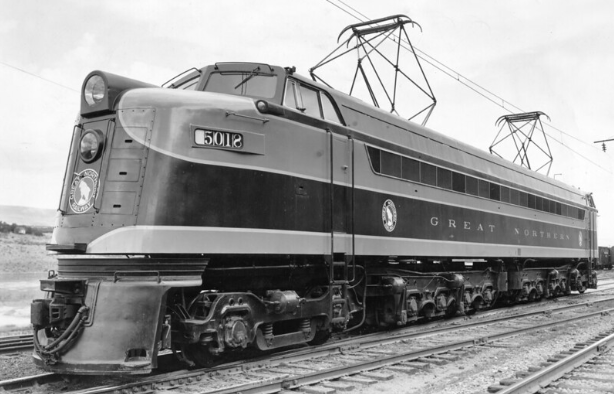 There is little doubt that cab units of the 1940s & 1950s were among the most photogenic locomotives in railroading -- diesel-electric or electric motor. However, the honor of being the most distinctive belongs to streamlined Alco / GE-built Great Northern 5000-hp #5018 & 5019 Class W-1 (4-D+D-4) or #5011A a Class Y-1A (1-6+6-1). Ex-box cab 3000-hp GN #5011A had been damaged in a fire and rebuilt in 1952 with a pair of streamlined EMD FT cabs and car-body.
Photographers:
GN #5011A at Skykomish, WA (date unknown --- Craig Garver collection
GN #5018 at Skykomish, WA (date unknown) --- Craig Garver collection
General Electric E2b "Experimentals"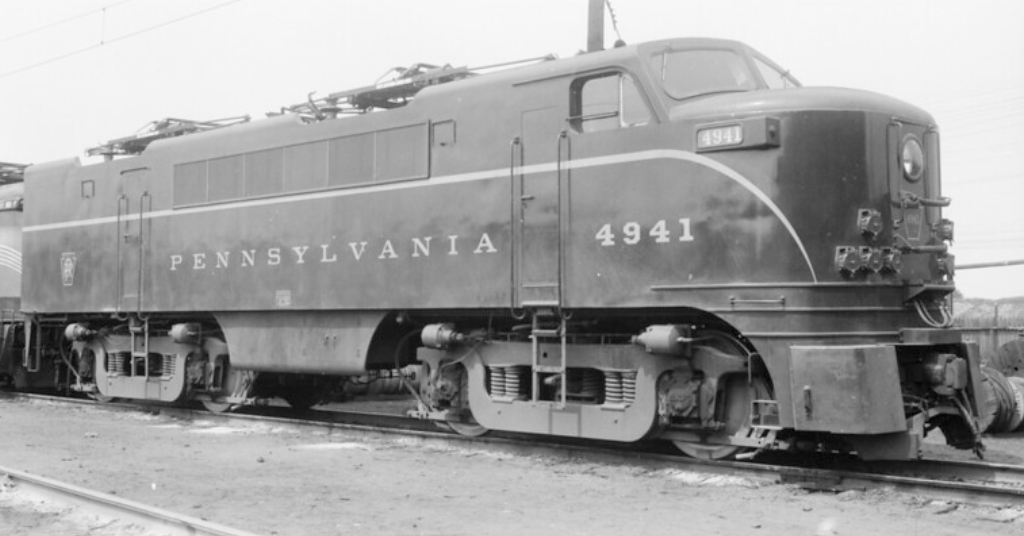 xxx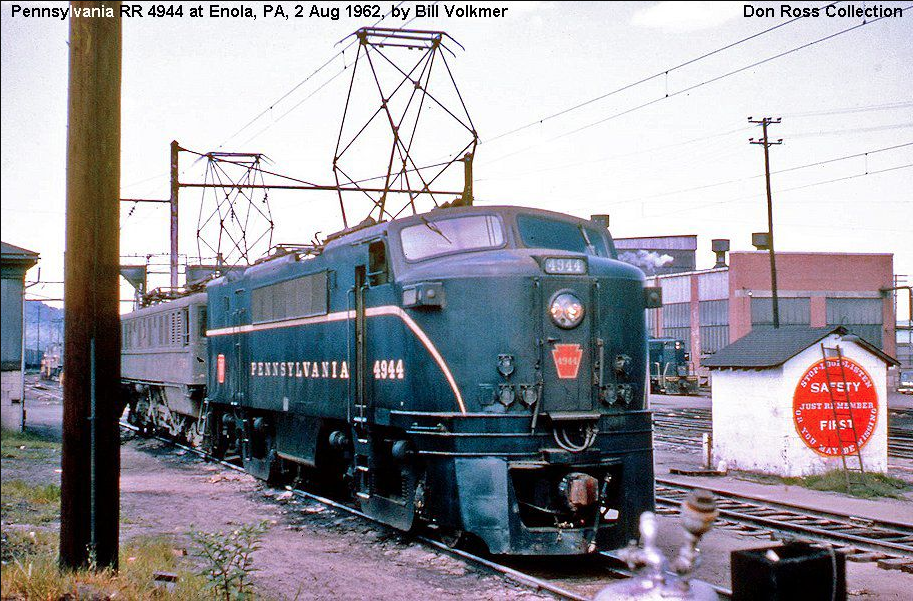 During 1951/52, GE produced six E2b straight A.C. electrics; the first four went to the Pennsy (#4939-4942) for evaluation. The others were utilized as demonstrators and worked on the Great Northern, New Haven and Virginian prior to being acquired by PRR (#4943 & 4944). With the exception twin pantographs, the locomotives resembled contemporary diesel-electric cab units. Rated at 2500-hp, each electric ran on 11,000-volt catenary. The day of elongated locomotive platforms with ten, twelve or more axles was coming to an end.
Photographers:
PRR #4941 at Wilmington, DE on 19 August 1951 --- Photographer unknown / Craig Garver - Digital Rail Artist collection
PRR #4944 at Enola, PA on 2 August 1962 --- Bill Volkmer photo courtesy of Don Ross
Westinghouse E3b/c "Pioneers"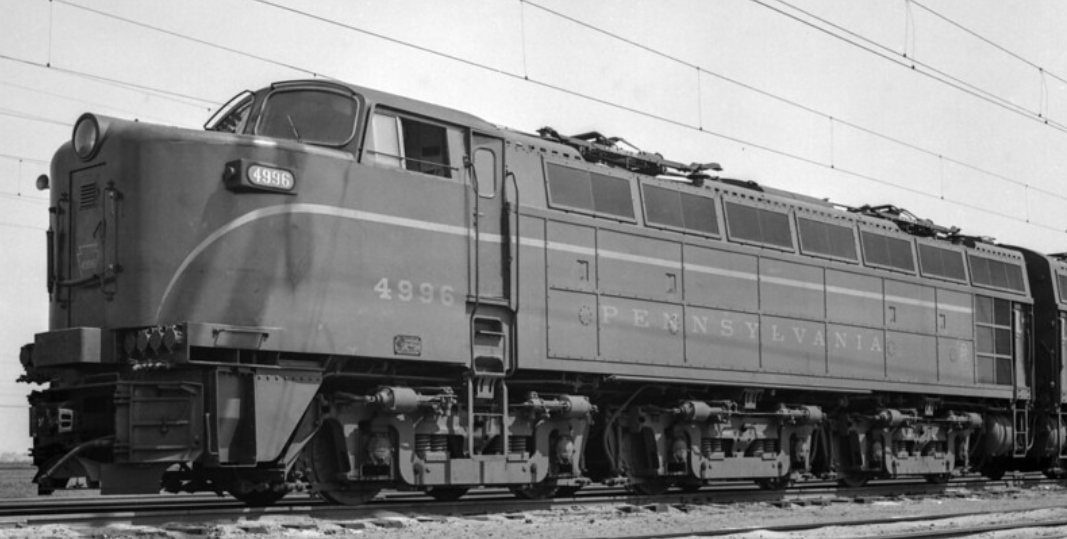 xxx
Westinghouse was the prime contractor (and Baldwin the sub-contractor) for four 3000-hp experimental electrics built during the early 1950s. Delivered to the Pennsy as E3bs (#4995 & 4996 w/ B-B-B trucks) and E3cs (#4997 & 4998 w/ C-C trucks), each of the four-some was equipped with mercury-arc rectifiers which converted A.C. power to D.C. current. Thus traction motors were interchangeable with those TMs of diesel-electric locomotives.
Photographers:
PRR #4996 at S. Philadelphia, PA on 20 April 1952 --- Photographer unknown / Craig Garver - Digital Rail Artistcollection
PRR #4998 at Enola, PA on 3 September 1962 --- Bill Volkmer photo courtesy of Don Ross
General Electric E40 "Jet"
xxx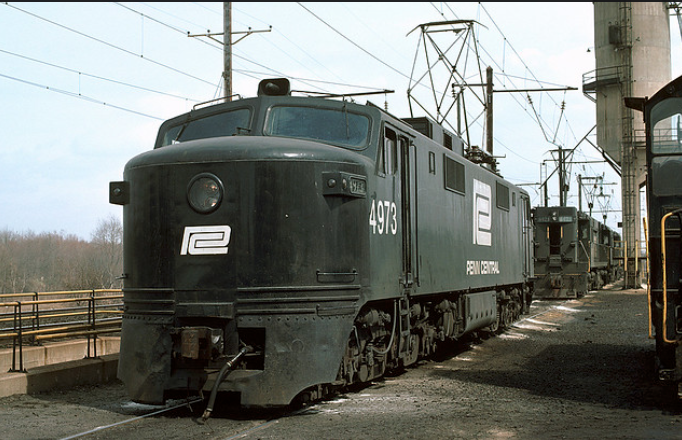 GE's dual cab E40s (EP-5s) #300-310 were the first electric locomotives equipped with a rectifier that transformed AC to DC traction motor current. The streamlined cab units were noted initially for their ability to haul heavy commuter trains; they were also known for their tendency to breakdown on the road; thus they were demoted to hauling secondary freight. Built in 1955, only #4973 and 4977 (ex-303 & 307) were conveyed by PC to Conrail at time of merger.

Photographers:
New Haven #372 at New Haven, CT on 19 October 1963 --- Bon French
Penn Central #4973 at Morrisville, PA in February 1973 --- George Hamlin
General Electric E33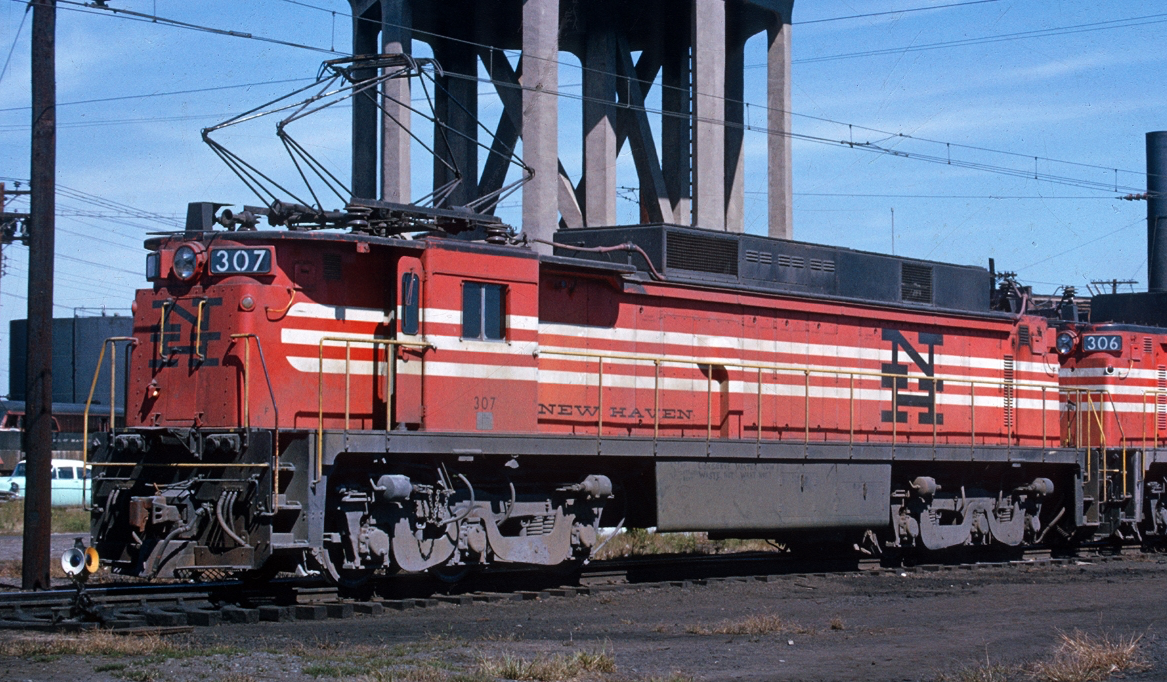 xxx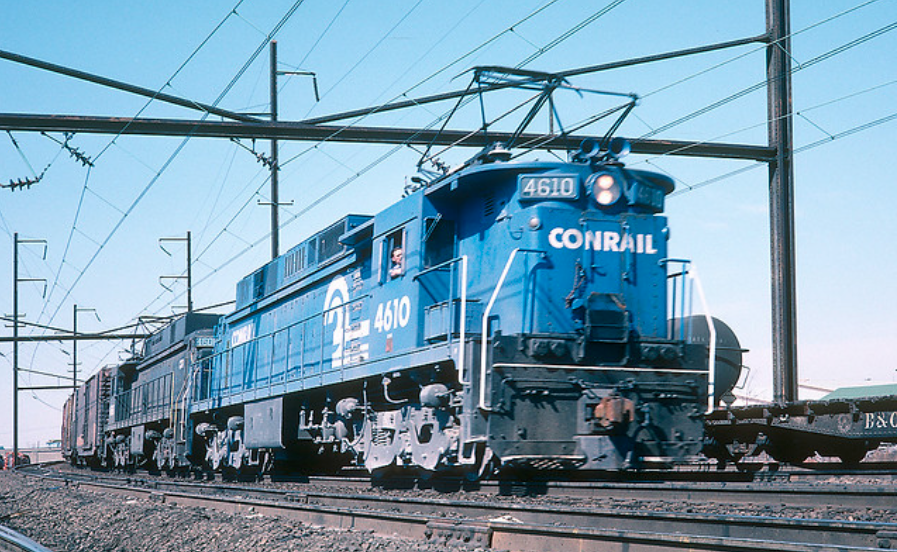 GE introduced its new E33 / EL-C electric freight locomotive late in 1956 with the delivery of a dozen units to Virginian Railway, which was the sole purchaser of the one-time model. The 3300-hp motors featured rectifier technology which converted DC power to AC current, a first-time freight application. After leaving the VGN roster in 1956, the 33s had four more owners: Norfolk & Western (briefly), New Haven, Penn Central and lastly Conrail. Cosmetically restored VGN #135 resides at the railroad museum in Roanoke, VA.

Photographers:
New Haven 307 at Cedar Hill (New Haven), CT on 19 October 1963 --- Matt Herson
Conrail 4610 at Orangeville, MD in 1978 --- Jim Kleeman
General Electric E44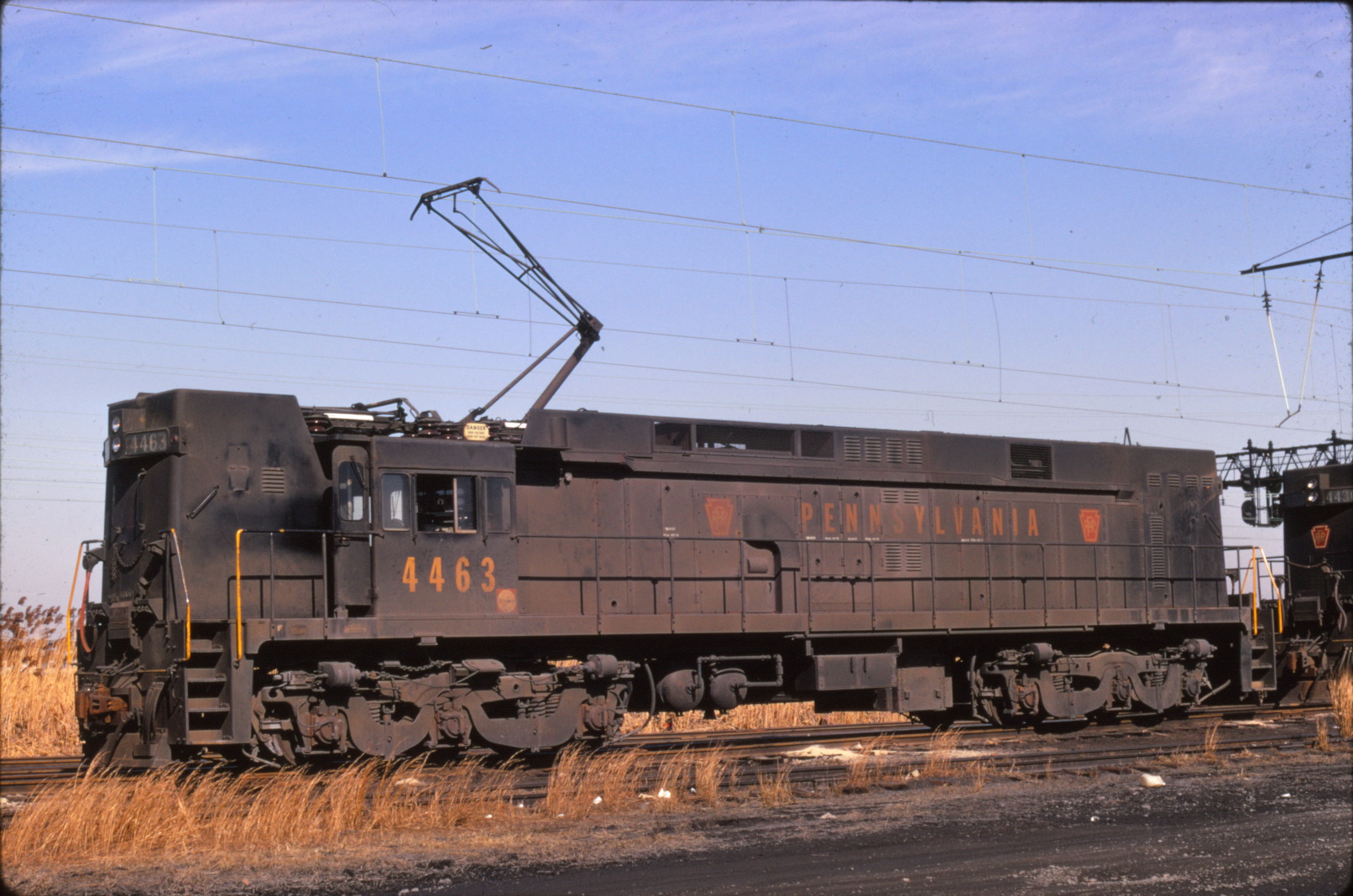 xxx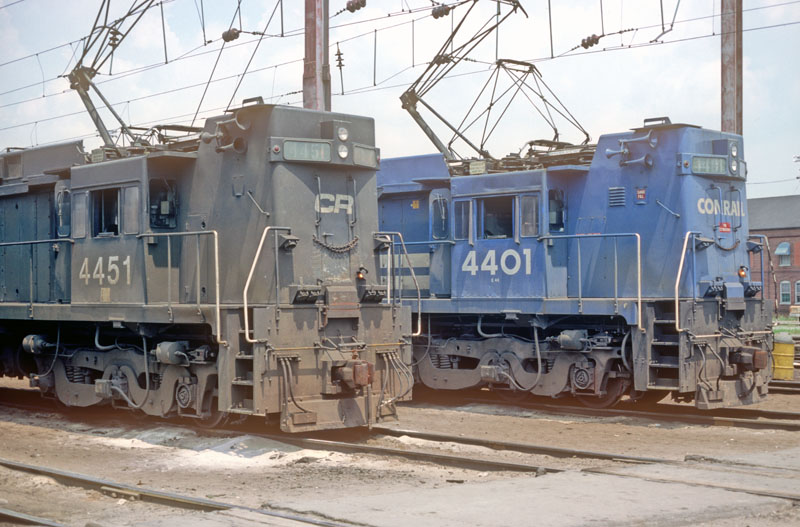 Pennsy's 66 E44 rectifiers (#4400-4465) offerred significant advantages over other electrics: Horsepower was constant regardless of speed, electrical overloads for extended periods handled without damage to traction motors, lower construction / maintenance costs, and lastly traction motors were interchangeable with those of diesel locomotives.

Photographers:
Pennsylvania #4463 at South Newark, NJ in February 1970 --- Unknown / R. Craig collection
NH 307 at Cedar Hill (New Haven), CT on 19 October 1963 --- Matt Herson
General Electric E60C & E60CH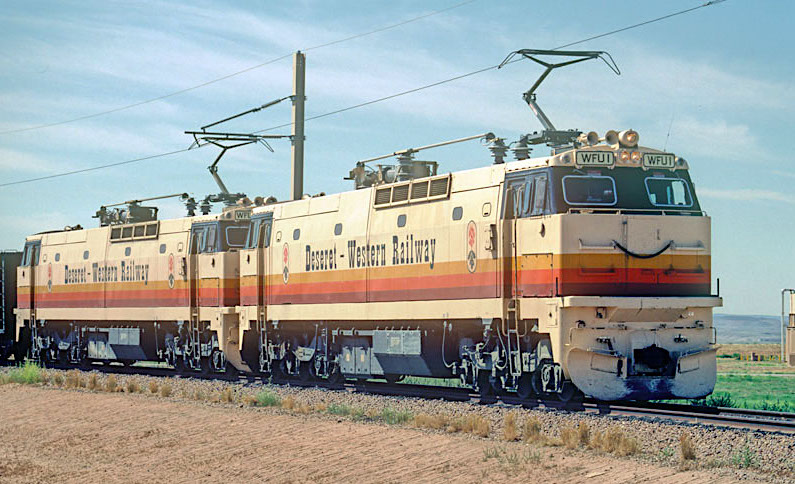 xxx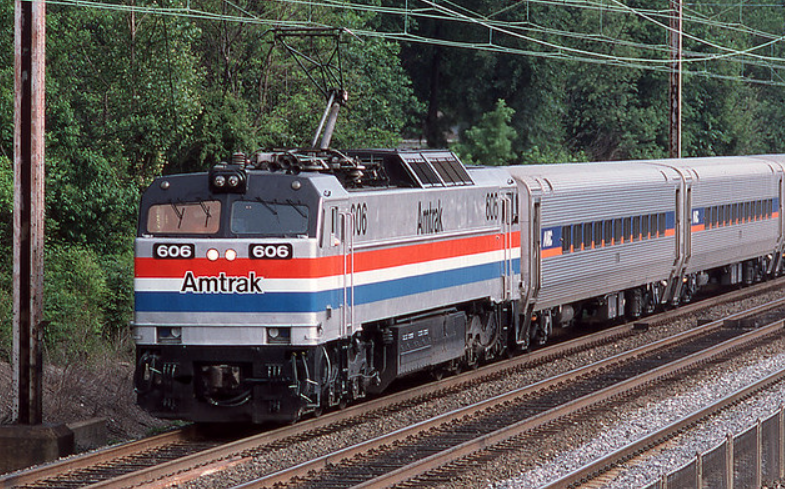 The first of six E60Cs arrived from GE in 1972; they had been built for Black Mesa & Lake Powell, a mining railroad. The freight motors tipped the scales at a whooping 426,000 pounds. Two years later, Amtrak purchased a couple versions of the passenger model (19 E60CHs & 7 E60CPs). Even though the units shed 20 to 30 tons, their weigh kept them from being ideal performers along the Northeast Corridor. Other original buyers included National de Mexico (39 E60C-2s) and Deseret-Western (2 E60C-2s).

Photographers:
Deseret Western #WFU1 at Bonanza, UT in August 1990 --- Dick Neumiller photo / Bon French collection
Amtrak #606 at Halethorpe, MD on 4 June 1986 --- Bill Kalkman
General Motors GM6C & GM10B Proto-types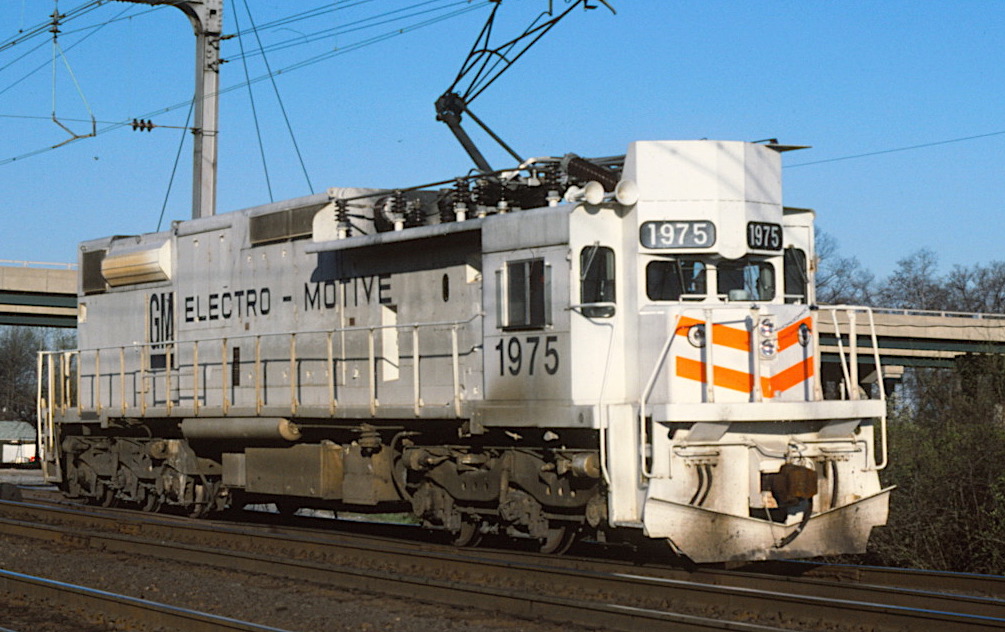 xxx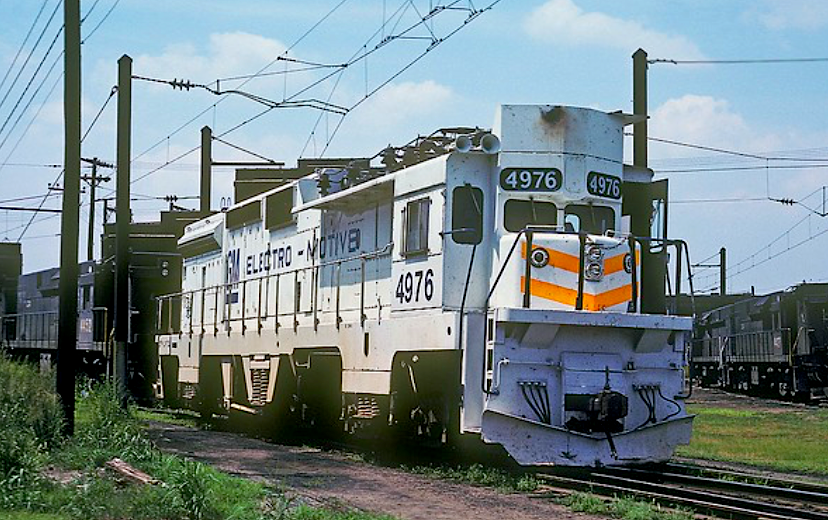 GM and ASEA (Sweden) teamed to produce these two test-beds in direct response to the energy crisis of the mid-1970s. GM6C #1975 (6000-hp, C-C trucks) was designed for conventional freight service, while GM10B #1976 (10,000-hp, B-B-B trucks) was intended for high-speed intermodal traffic along the Northeast Corridor. The two high-horsepower electrics drew little attention as oil prices dropped and supplies increased. The GM proto-types were later scrapped.

Photographers:
#1975 at Baltimore, MD on 6 July 1976 --- John C. Benson
#1976 at Baltimore, MD in August 1976 --- Jim Kleeman
General Motors GF6C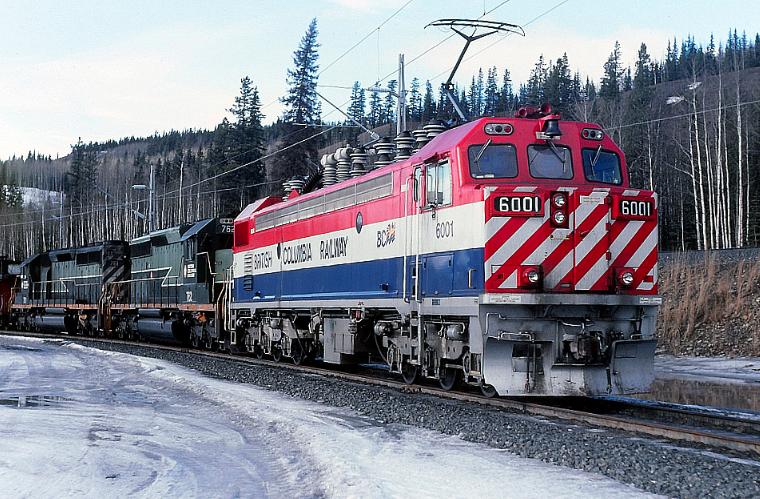 xxx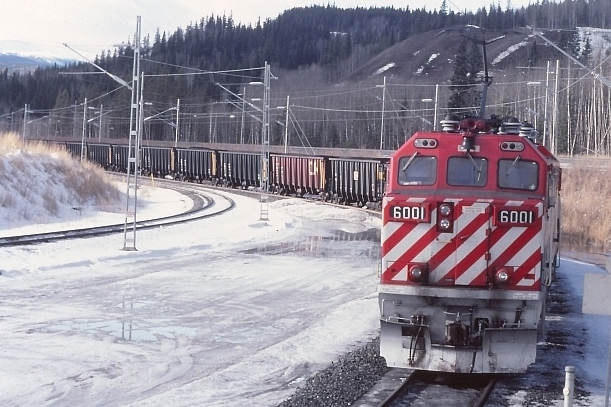 The GF6C was an off-shoot of the General Motors / ASEA GM6C testing program (above). BC Rail, which purchased seven copies of the 195-ton locomotive, was the only buyer. Built in 1983, BCR 6001-6007 were used primarily as northern coal haulers. A cowl-type carbody was the one feature that differentiated the GF6C from the GM6C; the power-train, braking and control systems were identical in both models.

Photographers:
#6001 (left) at Teck, BC in January 1985 --- Doug Lawson
#6001 (right) at Teck, BC in February 1985 --- Doug Lawson
ASEA / EMD AEM7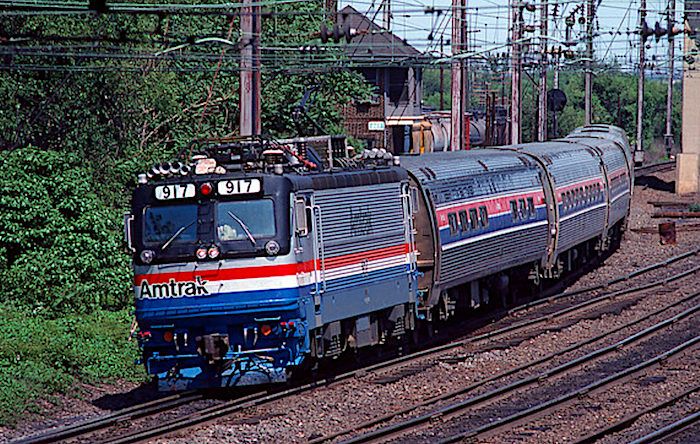 xxx
In terms of deign, the Swedish-engineered AEM7 seemed to be a return to the pre-World War II days of boxy-looking electric locomotives. Weighing 90 tons less and 27-feet shorted than the fabled GG-1, the AEM7 could race along at 125 mph. Total production of the 7000-hp unit between 1978 and 1988 was 65: Amtrak (54), MARC(4) and Septa (7). The only survivors were Amtrak's #915 and 945 at railroad museums in Pennsylvania and Illinois respectively.

Photographers:
Amtrak #917 at Baltimore, MD on 17 May 1981 --- Bill Kalkman
MARC #4903 at Washington Union Station, MD on 14 March 1988 --- Ted Grumbine
ASEA Brown Boveri ALP44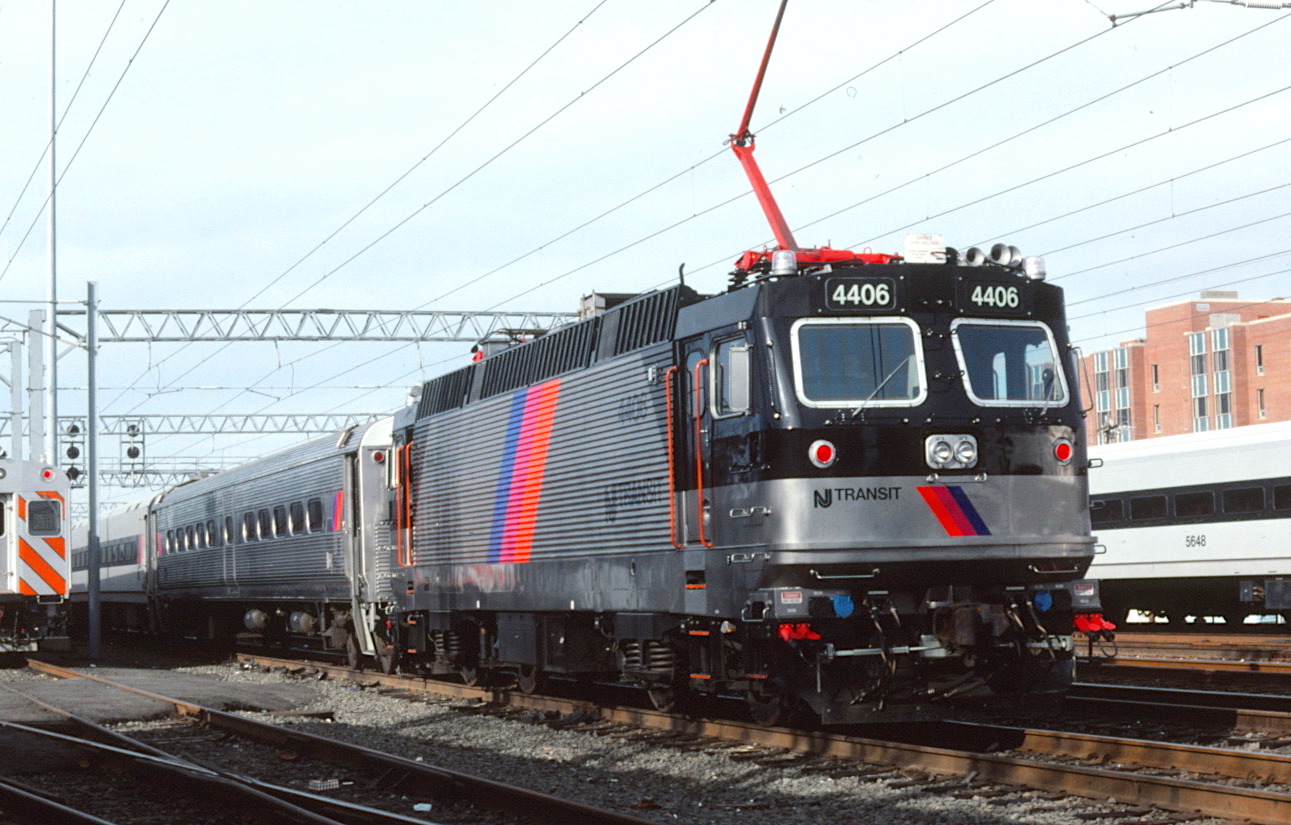 xxx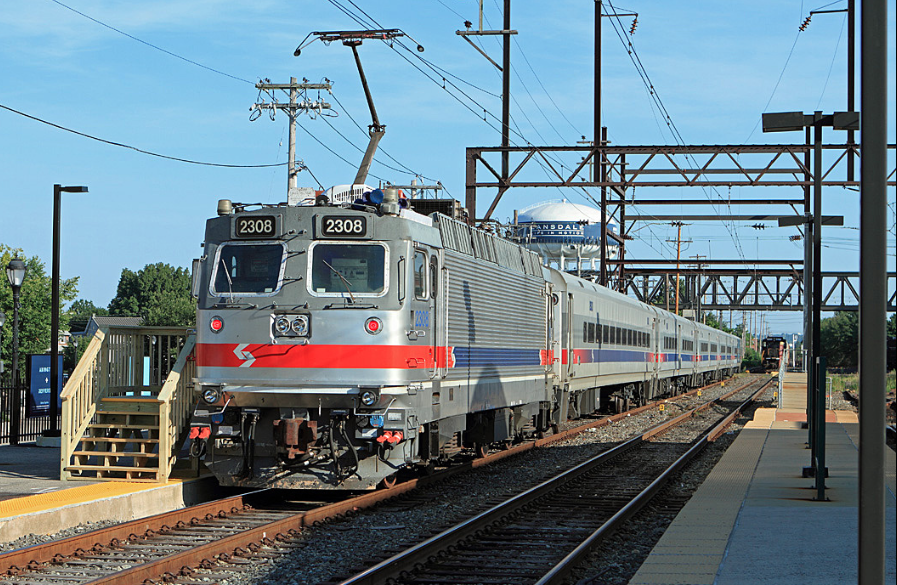 ABB built 33 ALP44 commuter rail locomotives between 1989 and 1997. Thirty-two units were produced for New Jersey Transit and a lone 44 for the Southeastern Pennsylvania Transportation Authority. Closely resembling the AEM7, the new model included micro-processor controls and GE's EPIC braking system. The SEPTA unit was the result of a court judgement against the transportation equipment manufacturer from an earlier and unrelated litigation.

Photographers:
New Jersey Transit #4406 at Long Branch, NJ on 1 March 1991 --- Photographer unknown / R. Craig collection
SEPTA 2308 at Landsdale, Pennsylvania on 27 August 1991 --- Dale Woodland
Bombardier / Alstom HHP-8
xxx
In 1997, Amtrak acquired 15 new 8000-hp HHP-8s for its Northeast Corridor roster; MARC piggy-backed on the order and received six copies of the dual-cab electric. Produced by a Bombardier and Alstom consortium, the sleek-looking HHP's performance did not meet Amtrak expectations, which subsequently retired them after only ten years. MARC on the other-hand opted to undertake a rebuilding program.

Photographers:
Amtrak #690 at Wilmington, DE on 18 June 2016 --- Matt Donnelly
MARC #4913 at Harmans, Maryland on 1 July 2019 --- Bill Kalkman
Siemens ACS-64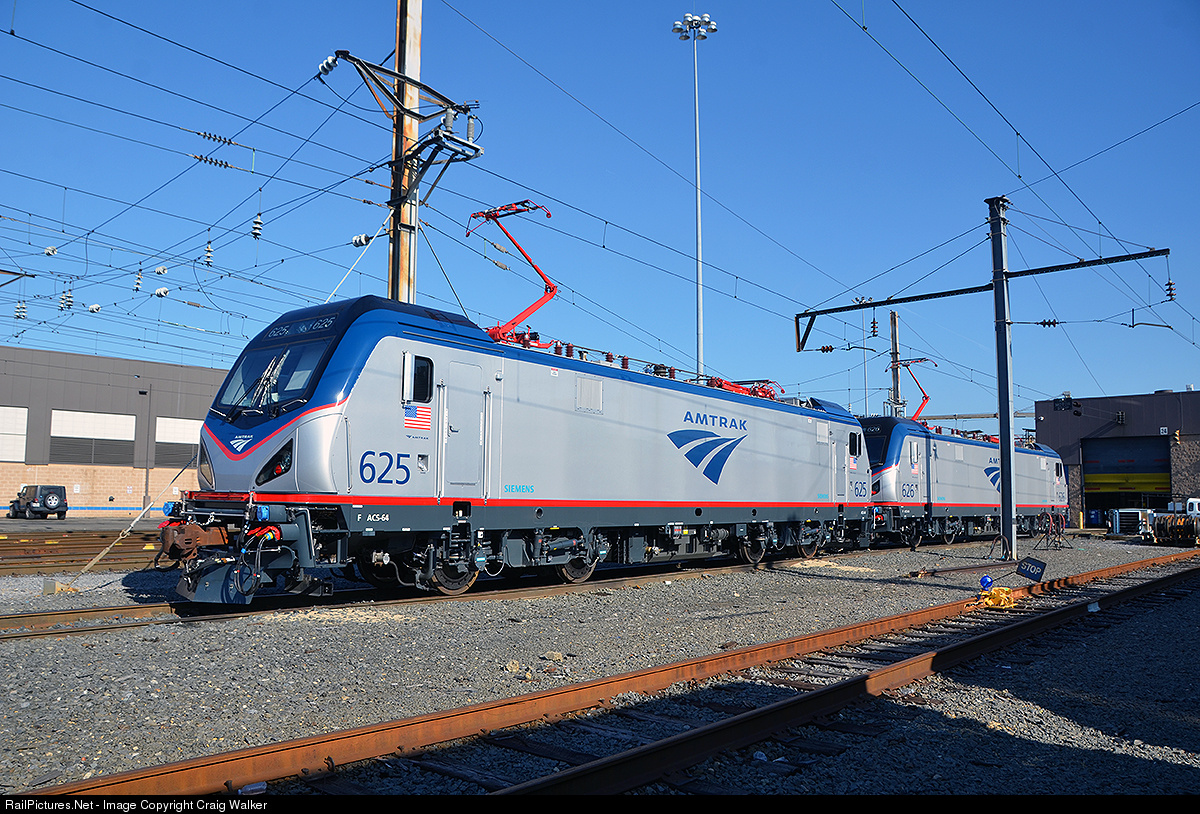 xxx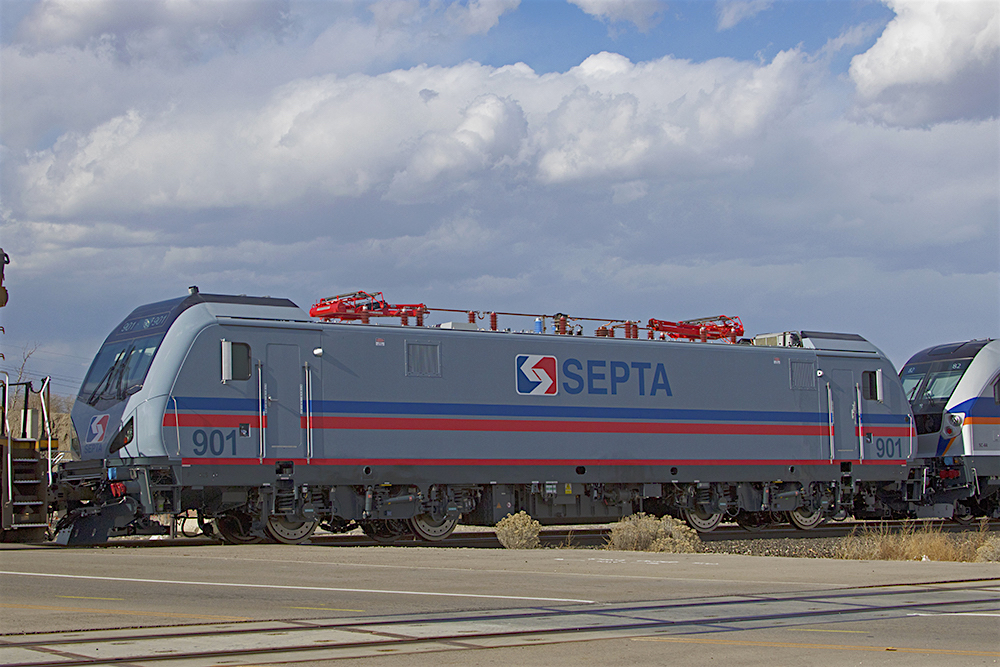 The Northeast Corridor has been a challenge to high-speed rail equipment manufacturers ever since the last GG-1 was retired. However, Siemens, with its eigth-year- old ACS-64 "Sprinter" appears to be succeeding where others stumbled. The locomotive's sleek styling and 4400-hp has consistently racked up good numbers in performance and reliability since entering service on the Northeast Corridor in early 2014. ACS-64 production by the end of 2020 stood at Amtrak with 71 units (#600-671) and SEPTA with 15 units (#901-915).

Photographers:
Amtrak #625 at Bowie, MD on 4 January 2019 --- Craig Walker
SEPTA #901 at Murray, UT on 3 December 2017 --- Schon Norris
Unusual Industrials (E25B & E50C)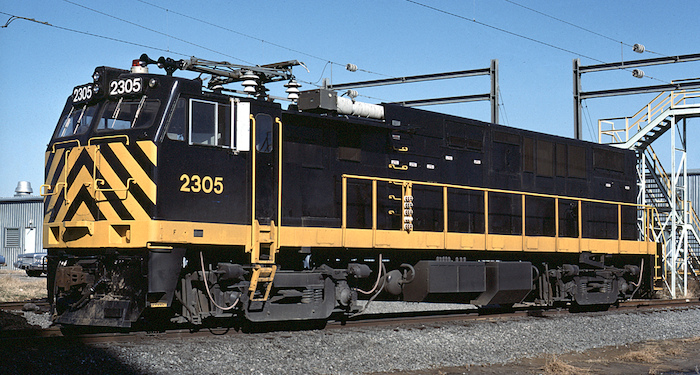 xxx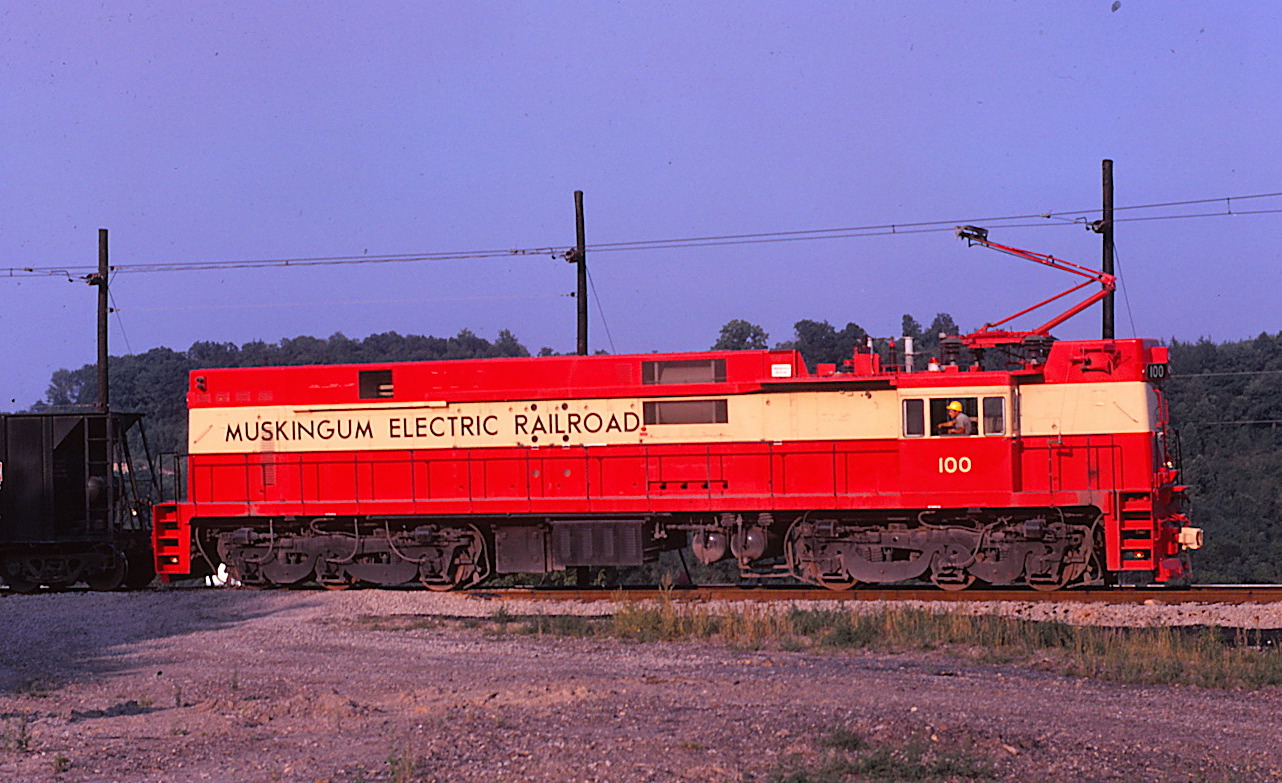 Muskingum Electric acquired to two 5000-hp electrics from GE in 1968. Carrying numbers 100 and 200, the six-axle pair were employed to haul coal 20 miles from a strip mine to a generating plant. The red-white units were also periodically used by GE to test evolving automatic control technology; they were both scrapped by 2004. (Note engineer in driverless loco.) Similarly, seven 4000-hp electrics were purchased in 1976 by Texas Utility to transport coal from mine to plant

Photographers:
Amtrak #625 at Bowie, MD on 4 January 2019 --- Craig Walker
SEPTA #901 at Murray, UT on 3 December 2017 --- Schon Norris
* * * Notes & Credits * * *
Sources:
Milwaukee Road Under Wire by Karl Zimmerman
Pennsy Power II by Alvin Staufer
Penn Central by Robert Yanosey
Extra 2200 South Newsletter
Flickr.com
Train Orders.com
Wikipedia
Original upload: 1 February 2022
Additional Contributions: